Basil infused Tidal Salt is a savoury herby new addition to our family of salts. It's perfect for an earthy addition to your dish. Try it on a caprese salad with a little olive oil.  Put it on your pizza or roasted potatoes. Spaghetti and Meatballs? YEP! Rim a glass and add in your favourite spicy Caesar recipe!  It's all tasty!
Thanksgiving is upon us though so let's talk Turkey....
Here's what you are going to need:
1 Turkey (giblets removed)
1/2 cup butter at room temp
2 Tablespoons Olive oil
2 Teaspoons black pepper
3 Teaspoons Basil Tidal Salt 
3 cloves of garlic minced
1 medium onion - quartered
1 lemon - quartered
1 orange - quartered
3 sprigs rosemary
1 bulb of garlic - cut in half
a bit of water or stock
For Gravy:
3 Tablespoons of corn starch
Basil Tidal Salt and pepper to taste
Preheat your oven to 325 degrees. Pat down bird with paper towel so it's as dry as possible.  Mix your butter, olive oil, Basil Tidal Salt, black pepper and minced garlic to make a paste. Rub this mixture all over the inside and outside of the Turkey. Stuff the cavity with the onion, lemon, orange, rosemary, and garlic.
Place the turkey in a roasting pan on a roasting rack. If you don't have a rack - a 4-5 carrots in the bottom of your plan will do.  Add about a half inch water or stock at the bottom of the pan.
Cover the pan with a lid or Tin foil and roast for 2 hours. Remove the cover and baste the Turkey. Continue basting the turkey every 20 min until you reach the finished temperature. 
Here is a handy little roast chart based on the weight of your bird from Huffpost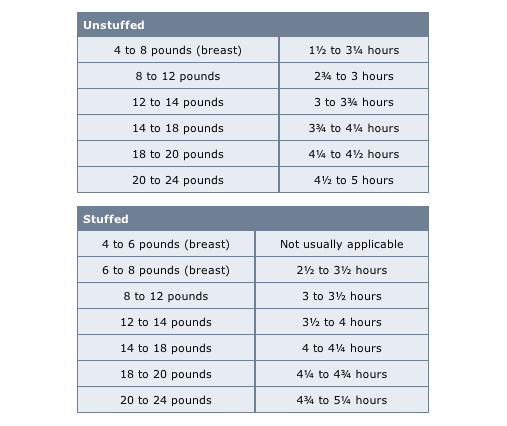 The goal is to hit 170 degrees F under the wing, but be sure to take the temp in a few places and don't hit the bone with the thermometer. 
While the Turkey rests for 15-20min. Make your gravy. 
For the gravy you will mix your corn starch with a little cold water to make a slurry. Use the dripping from your roasting pan in a sauce pot. (you can skim off the fat if you like). Add the slurry and stir over medium heat until thickened. Season with Basil Tidal Salt and pepper to taste. 
Carve your Turkey and DIG IN!!